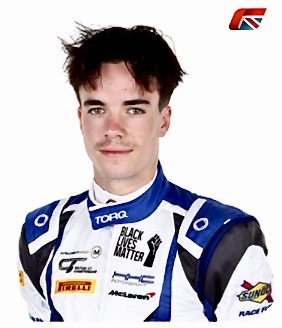 GUS BOWERS
Committed, fit and very able.
Personable and dedicated.
Professional Driver Coach and ARDS Instructor qualified.
Dedicated SIM racer and eSport Player.
Regular web columnist and podcast guest for all things Motorsport and F1.
Supported by HHC Motorsport and McLaren.
Studying a Media Studies BA (Hons) Degree at Brighton University, UK.
Read and watch the action on track, in the paddock and from Gus's viewpoint from all the most recent race weekends and test day adventures.
Go to Racing Update and Highlights
HHC was formed in 2010, jointly headed by Charlie Kemp and Jody Hemmings. Taking their race driving, team management and commercial skills, the two soon established HHC Motorsport as a leading force in UK motorsport. Multiple Champions across multiple series, including British GT4 and BRDC F4 championships.
Go to HHC Motorsport
For more than 25 years the Intelligent Money British GT Championship has established itself as the world's foremost domestic GT series. GT4's arrival and subsequent expansion currently sees two classes running on the same track at once, an important aspect of GT competition that enables a driver to prepare for international endurance racing.
Go to British GT Championship
Please feel free to reach out
Racing is my passion, I have a will and desire to succeed in motorsport as a professional racing driver. Please reach out if you would like to join me on this incredible journey.